Our Promise is to Exceed Your Expectations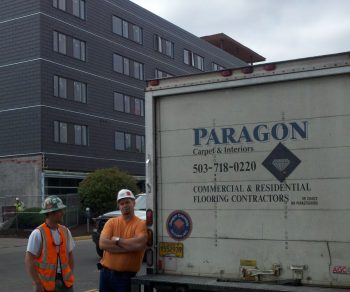 Every company has a beginning. But few have a story like that at Paragon Tile & Stone.
With years of combined experience in the tile industry, as well as a keen understanding of proven systems management, Marc Dollahite, Dave Cutz, Paul Luttrell and Jim Cutz formed Paragon Tile & Stone in July of 1999. The idea was to build a company dedicated to exceeding the customer's expectations through efficiencies not found anywhere else in the industry. Some of the founding owners have moved on, but Paragon's president Marc Dollahite still remains.
By hiring delivery persons, repairpersons, schedulers, sales experts, and more, the four entrepreneurs quickly became an area success story. Customers learned that Paragon, with its attention to detail, interlocking accountability and expertise, would get every job done on time and on budget.
This remarkable balance of accountability, pride in a job well done and leadership has helped Paragon grow to about 30 employees. And that includes a rarity in the industry: full time installers. By employing full time installers, Paragon is continually able to provide unprecedented service, reliability and integrity to every job.
The foundation for the company's success is based on the overall commitment to exceed the customer's expectations.
Paragon's success is the community's success. Currently Paragon supports the Broadway Rose Theatre and the Habitat for Humanity. We're also proud members of the Better Business Bureau, the HBA (Home Builders Association) the Remodelors Council™ of Oregon, the Associated Builders and Contractors, Inc. Pacific Northwest Chapter and strong advocates of Angie's List.
We're all over the Portland area. Look for our special touch of expertise in the Tour of Remodeled Homes, throughout Bridgeport Village, in the South Waterfront, the Rose Garden and in the finishing touches of the area's finest restaurants, businesses and homes. See our portfolio for more.
We take pride in what we do and who we are. From Marc, all the way down to the new person on the installation team, our dedication to accountability and a proven process has exceeded countless expectations. Give us a call and tell us how we can exceed yours today.
Contractor's License: General Contractor
Oregon Registration Number: 135822
Washington Registration Number: PARAGTS001BQ
---
Quality Control
A job done right is a job done once. Nothing is more frustrating than a project that lingers on and on. When days pass by without any progress, any normal businessperson or homeowner is bound to get frustrated.
Paragon takes a better approach. We believe in doing a job right and keeping our promises. To do that, we accept accountability for everything we do. Meaning, everyone at Paragon is accountable to everyone else. And ultimately, we're accountable to you.
We communicate. By talking to you and getting a clear understanding of what you need, we can ensure that all the materials are delivered a day prior to the job being started. We can also set a realistic timeline that works for you.
When the work begins, our skilled workers are given autonomy to do what they do best – install tile, flooring, countertops and more. And at every stage of the process, everyone at Paragon is held accountable to you. It's how we exceed your expectations each and every time.
Services
Yes, we're a full-service installation company. And yes, we have a General Contractor's license (Oregon: 135822; Washington: PARAGTS001BQ). But we're even more than that.
We're a real company run by real people working hard to make a difference. Together, we're an efficient machine. From the installation of ceramic tile or stone bath surrounds and showers, to fireplaces, granite countertops and more, we get the job done right and on budget.
We strive to exceed your expectations time after time.
We want to hear how much you love the work we do. We want to know that we played a major role in making your house or business even more wonderful. And we want to know that you like our work so much that you recommend us to your friends, family and business associates.
---
Call us or stop by our showroom to learn more about our commitment to exceed your expectations today.
---
Ceramic Tile Baths
Countertops
Cultured Stone (interior/exterior)
Fireplace Surrounds
Glass Block Walls
In-Floor Heating Systems
Mud Set Applications
Stone Baths & Showers
Tile & Stone Decks